ABOUT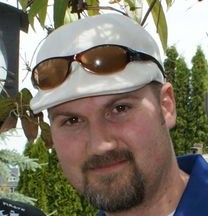 Jason is a graphic designer with interactive tendancies who loves a good branding challenge. Jason has an affinity for sharp design with engaging use of color. Branding is his favorite type of design because creating a brand for a company creates an existence in the world.
Without good branding, a company identity is just a name and a logo. 
He has spent his career fine tuning his skills from design and production to scheduling and workflow management. Jason has an excellent understanding of the design and production process from the birds-eye level where big ideas count, to the ground level where attention to detail is critical. He has successfully taken on many levels of the creative process.
Jason has built a foundation of success based on his experience working in fast-paced environments where time management and consistency are king. His work involves designing everything from logos, illustrations, print advertising and web design to point of sale and packaging for Xerox, Fred Meyer, Papa Murphy's and other professional services companies. He thrives in an environment that allows for him to showcase his disciplined design approach and time management skills.
Jason is looking for freelance or long term opportunities within a strong, creative environment where he can contribute his eye for detail and disciplined design approach.
Download PDF of Jason's resumé here. Or Microsoft Word version.
Please feel free to email Jason at jasontharris@gmail.com or call Jason at 503-939-7724
FEATURED SKILLS    
Design Concepts and Development, Identity and Branding Design, Print Design, Web Design, Package Design, Environmental Design, Art Direction, Production Management, Illustration
ACHIEVEMENTS
Creation of unique design concepts for over 200 different clients
Creating standardized templates and styles resulting in reduced departmental head count of 1 FTE
Designed a library of graphic icons that were used across all product brochures
Successfully launched 6 quarterly promotional kits and managed the creation of the contents
Completely redesigned corporate Hoffman Construction website from ground up to better represent company
Created a process to ensure accurate marketing materials by instituting a check list system
Established visual standards on which all print collateral is based and improved consistency
Created file management system of archiving and labeling to improve efficiency by 5-7%for department
Created strong working relationships with other design departments increasing productivity
Streamlined production procedures increasing production by 30%
CAREER DEVELOPMENT
[ Harris Design House   |   January 2012 – Present]
Independent design and branding services
Master Cog and Creative Lead
Creation and development of all design related services including print and interactive. Work includes websites, web banners ,web ads, email newsletters, business graphics, brochures, business cards, flyers, and more. Management of client relations. Creative direction of peripheral design services such as photography and production. Business management of day-to-day activities such as time management and project prioritization.
Clients: Intel Corporation (contract design services), PM Industries, Inc, Lewis & Clark Bank, Rhythm of Healing Ayurvedic and Massage Clinic, Hoffman Construction, Diakin America, Pioneer Landscape Maintenance
[ Hoffman Construction Company, Portland, OR   |   January 2008 – August 2012 ]
$20M Portland-based Commercial Construction Company
Graphic Designer / Art Direction
Development of design concepts and campaigns for printed proposals and other marketing materials including print ads, corporate website, trade show materials, banners, PowerPoint presentations, packaging and more. Art Direction and workflow management of marketing coordinators and support staff on project deliverables.
[ Xerox, Wilsonville, OR   |   July 2006 – December 2007 ]
$4B Global Manufacturer of Printers, $150M North American Resellers Division
Graphic Designer (contract)
Designed product collaterals including product brochures, print samples, posters, quick reference guides, evaluator guides, detailed specifications, and competitive comparison guides, packaging and envelopes, art direction of photo shoots, job scheduling and press checks, team collaboration with writers and designers for creation of print material.
[ The Lab West Design Studio, Vancouver, WA   |   2001-March 2006 ]
Design studio for a large national pizza chain with over 1,200 individual franchises and over 500 franchisees
Graphic Designer
Created branding guidelines for multiple promotional campaigns, designed and coordinated Point Of Purchase signs and posters and other in store sales materials, created identity standards for Papa Murphy's corporate advertising and marketing materials, management of print production including job scheduling and press checks to ensure quality and brand consistency.
SOFTWARE SKILLS
Proficient on both Mac and PC
Adobe Creative Suite
Microsoft Office
Quark Xpress
WordPress
Prezi
Sketchbook Pro
EDUCATION
B.F.A. Degree in Graphic Design, Oregon State University
OTHER CERTIFICATIONS AND EXPERIENCE 
HTML, CSS and Web Design
Project Management Certified
Franklin Covey Focus: Time Management
Prepress and press checks
Photo shoot direction